this is the news
19th MAY 2013
HAPPY BIRTHDAY LAURA MAE
So the other Black Flag who call themselves FLAG have made this clip available and I have to admit they are in rather fine shape too. Fans seem to be choosing between the two, the majority preferring Flag but do you mind if I get all fan boy excited about both of them? Check these old fossils out. PUUUUUUNK!
I interviewed Bob Mould recently and we talked a bit about Husker Du. I mentioned his partner in crime from that band GRANT HART and he wasn't all that responsive. What I didn't realise at the time is that Hart has a new record coming out in July called The Argument. Details are sketchy and reports that it's a track by track reworking of the Fugazi classic are unconfirmed (maybe even unreported) and this wallernotweller news flash goes to press.
I am gearing up to interview MISSION OF BURMA later this month and loved watching their documentary again in preparation. For those that haven't seen it or for those that have no idea who these noisy men are check out the movie below…
Want something a bit more modern and even noisier, well, this week RETOX put out a documentary which goes on with some awesome detail about modern day touring and the general day to day shtick that goes into being a DIY band in today's musical climate. Its proper good like. I told singer Justin Pearson via twitter that I enjoyed it so much that I stopped rubbing shit on my face for the whole duration. He replied "Woah". This counts as yet another wallernotweller exclusive interview. Unfortunately it's not 80s based so I binned it.
15th May 2013
Kiss were only 3. Amazing footage.
14th May 2013
Congrats to me best mate Alex and his misses Hanj on the birth of their new girly with the psychedelic moniker Indigo Tempest.
12th May 2013
I've had the busiest of months interviewing people for Penny Black Music. Coming up in their next issue (next week) I have spoken members of the following 80s bands…
BOB MOULD /HUSKER DU – this will be PBM's lead interview which I'm pretty impressed with as Dave Davies from The Kinks was also interviewed for this issue.
THE JAM – Bruce Foxton was crazy down to Earth, and has released a pretty fine solo album recently called Back In The Room.
ALISON MOYET – I've been interviewing bands for a few years now but this was my fave. I watched her on TV recently and she's been getting crazy hyped once more. A lot of planning went into this, I'm real happy with it. Not only this but it looks like Alison Moyet is going back into the Top 5 of the album charts this week. Her highest position since 1987's Raindancing so well done her, she stuck to what she believed in instead of making an album that record companies thought would sell and selling herself like a piece of toot on celebrity jungle programming and that shit. I'm well chuffed for her.
MEAT PUPPETS – Calling Curt Kirkwood's new iPhone in the USA was not much fun, some of the interview was killed by bad reception and I felt a dick when I asked him if he could move to another room.
SQUIRREL BAIT – I knew of this band but hadn't really heard them until I was asked to speak to David Grubbs. He may be better known today for his work with Gastr del Sol and his ATP/Domino approved solo albums but my word, back in the 80s Squirrel Bait kicked ghoolies.
BLACK – Colin Vearncombe may languish in most minds as a one hit wonder thanks to his '87 smash Wonderful Life but you have to read this one. He comes across as bitter in places but there is no denying he has every right to be. Major labels fucked him good and proper.
Coming up next month for me to interview is members of  BOOMTOWN RATS, THE WOODENTOPS, ECHO AND THE BUNNYMEN and only the fucking MISSION OF BURMA. That's right I said Mission Of Burma, if you have not heard Vs then punch yourself in the face. Hard. Now.
New videos that are worth a mention this week include the new one from MUDHONEY who I interviewed here a few weeks back. This is for I Like It Small. It's pretty much perfect Mudhoney.
Then we have the new one from BLACK FLAG called The Chase. The general vibe on the web is that this version of the band with Greg Ginn is a shite sandwich compared to the line-up simply called Flag. I have to tell you though this sounds pretty cool and I'm excited to hear the bands new album which should be dropping soon.
So BLACK SABBATH is back as well and I finally got around to listening to their new track with the awesome title and I loved it. Here it is… God Is Dead.
Finally AGNETHA FOLTSKOG from Abba has come out of retirement to make a new record. I sort of dug this from 1983 (Click this madness to see!!!) but from the track below I find very little that would attract me to it. I'll give it an outside punt though, she would like that.
Oh yeah, remember WHITNEY HUSTON is dead. Lay off the drugs people.
8th May 2013
So regulars to wallernotweller can see that I've changed the banner bar up the top of the screen to show album and single covers of people I have recently interviewed for my 80s book and for the magazine I write for Penny Black Music. I must admit I am pretty crap at internet jiggy pokery and this was the best I could do to brighten things up a bit. I'm getting a bit tired of the wordpress format I originally chose a few years ago when I started this but I don't want to lose everything in a massive upheaval change so this will do for now I think.
One thing that will change though is that I will do more frequent news updates on this very page for any 80s related artists that the book will include (and anybody else I give a crap about).
RIP JEFF HANNEMAN – I know that everyone and their mum has talked about this already but on a personal level the riffs and songs this guy wrote got me through many a tough time in my later teens. LEGEND.
So I'm too young to have seen Black Flag the first time around but I'll be fucked if I am gonna miss Greg Ginn this time around so I booked my tickets to the Hevy Fest as soon as they were announced and a few weeks later it turns out that the Hevy team have lost their site. So effectively what we have is a festival with no place to have it. Now I have it on good authority that they have a new venue and are just awaiting the final parts of confirmation and business signatures to be signed off or whatever before they announce a new venue but guys. Get your unprofessional shit together. This one is so close to being cancelled I can just taste it.
The Hop Farm festival has already gone the way of the do do this year but at least Vince Power put a stop to it so us fans know where we stand. I get it that ticket sales stalled and I won't get to see First Aid Kit, My Bloody Valentine or the awesome Rodriguez. Hevy treat us like a sack of shit. But I'd have to travel to Europe to see Black Flag without them. SORT IT THE SHIT OUT.
There are other 80s centric sites out there that whilst they are brilliant don't offer me everything I want to read about. For instance Slicing Up Eyeballs is a 'college rock' 80s site but they ignore rock, they ignore metal and pure pop and aim for more hipster stuff by the looks of it. That's great but the point of wallernotweller is to focus on stuff I dig and when you make a greatest list of records from 1982 and don't include Iron Maiden's Number Of The Beast well, you muist be potty. Also for their 1983 chart the shortlist includes Duran Duran but excludes Wham! and Culture Club. It's like they function just to wind me up. Bastards.
I never really got Lita Ford and this popped up into my inbox today and you know what… I still don't really get it. I loved the Runaways but this; this is a huge pile of cheese. And it's a stinky cheese at that.
8th May 2013
David Bowie has just released another mental video. I am still only around 50% sold on the new record but sheesh has this guy got some talented friends.
7th May 2013
Just came accross this interview with Bob Dylan today. For anyone as obsessed with the man's music as I am and you haven't seen it, it is essential. Also I talked about Infidels here.
23rd April 2013
Very excited about These New Puritans releasing a new record soon. Here is a little clip of some of their new stuff. The past 2 albums they put out were indie game changers in my eyes.
Also I recently spoke to Alison Moyet about here new record the minutes (yep all lower case) and she came across as utterly down to Earth. I have to admit it was the best interview that I have ever taken part in. What a woman. The new album has lots of electronica leanings and when I first heard the track Changeling I have to admit I was blown away by the change of direction and quality of the song. The icing on the cake was that she confirmed that there will be a vinyl release soon as well.
17th April 2013
Things have gone a little mad around these parts at the moment. Thanks to the below interview with Fish of Marillion fame I have been inundated with hits (more than I ever have had in one day), emails and messages. The last time I had this must interest in the site was when it got a mention in the New Yorker and when the now defunct Leicester band Minnaars slagged off their home town scene in an interview I did with them a few years back.
I was also this month really quite happy with an interview I did with Paul Rutherford of Frankie Goes To Hollywood but that has somewhat taken a backseat after the interest I've had since the Fish one has been published. Regardless this is all great for my book on the 1980s. Recently I have interviewed the Meat Puppets, Colin Vearncombe aka Black and also UK thrashers Acid Reign. These interviews will all be up on here soon. And coming up over the next week or so I am interviewing Alison Moyet, Bob Mould and Bruce Foxton from The Jam and maybe even Bad Religion and Thurston Moore from Sonic Youth. Imagine that. Such an amazing line up I'm sure you'll agree. I'm getting a tingle in my privates just thinking about it.
9th April 2013
I spoke to Fish from Marillion last night. Well, he was in Marillion 25 years ago when they were at their best, these days he has a pretty solid solo career going and I was shocked at how much the guy can rant. We chatted for 45 minutes and I only managed to ask 3 questions  that I had planned. That guy sure can talk.
Also the new OMD die cut LP came through my door yesterday. I haven't heard all of it yet but I flicked through 5 tracks on the free CD version that came with it and was gob smacked at how good it was. I can't wait to see these electro oldies at the Margate Winter Gardens at the end of the month.
4th April 2013
Stoner rock Prince. yes please
23rd March 2013
I'm not known for finding things funny. Comedy seems so desperate to me… Then i watched this and I laughed so hard corn flakes came out of my nose. And I hadn't had cornflakes for a week.
19th March 2013
Today I have been getting over a somewhat bizarre 24 hour fever that left me curling up in agony naked on my bathroom floor. Right now I sort of feel normal. These two tracks got me through it. Thrash Metal and 80s pop, don't mind if I do….
15th March 2013
So it's been a great few weeks for me. I've interviewed some great artists for my book and here is a recent list of who I've spoken to. Click on the name to read the finished product.
Coming up in the next month I am speaking to members of ACID REIGN, FRANKIE GOES TO HOLLYWOOD, BLACK and MEAT PUPPETS. So much to do and so little time. Fuck me, I love music.
13the March 2013
R.I.P. Clive Burr.
8th March 2013
For those that know/care I am writing a book on 1980s music and this week I have finished 1989. Last year I finished writing about 1983 and I have now begun work on 1982. I have to say that mainly listening to music from this period for so long is great. I never get bored and I discover new bands/singles/albums every week.
The great plus about doing this is that in my research I have just begun to interview heroes of mine and get them to dish at least some of the dirt behind the makings of many of my favourite albums. In the past few weeks I have interviewed the likes of THE WONDER STUFF, SWANS, PAUL HARDCASTLE, TANKARD, A FLOCK OF SEAGULLS and MUDHONEY. Coming up soon I am going to be speaking to members of FRANKIE GOES TO HOLLYWOOD, MEAT PUPPETS, BLACK and maybe even thrashes ACID REIGN. It's feels like this huge project is finally coming together.
I can't wait for someone other than myself to read it.
Gigs coming up are pretty exciting for me too. I am off to see Led Zeppelin covers band LETZ ZEP at the end of March and then come April there are 3 awesome shows lined up. Firstly from Canada A SIGHT FOR SEWN EYES and FALL CITY FALL are playing Canterbury and later in the month OMD and JOHN FOXX are playing Margate which I have a massive hard on for I can tell you and then finally American noisy bastards COLISIUM are playing in Ashford on the 27th.
2nd March 2013
So Prince can still do this. That's nice. He did make the best album of 1985. It wasnt all for nothin' y'know. Here is the link http://pitchfork.com/news/49756-watch-prince-perform-throw-a-guitar-on-fallon/. It won't let me embed it but Prince is quite the YouTube hater and likes to get paid every time you watch one of his vids these days?????
On the plus side lots of new bands have been added to the Hevy line up this week. Out of the latest additions I'll be keeping my eye on Code Orange Kids and Metz. I'm real excited about this one.
//CODE ORANGE KIDS//
//METZ//
27th February 2013
Thrash in the late 80s. Perfect breakfast material I say…
26th February 2013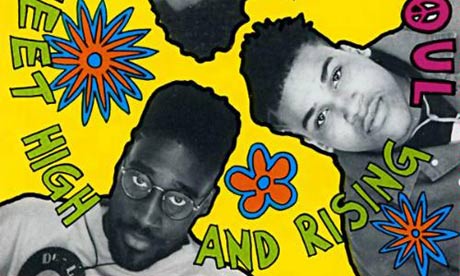 Of the two incredible Hip Hop albums released in 1989 3 Feet High And Rising may well be the most laid back but The Beastie Boys take the topper most of the hip hopper most award for rap record of the year. It's not that De La Soul's LP didn't contain killer material because it did, almost every song is a stand out and the singles taken from it are sublime. There is though, one thing that rubs me the wrong way every time I listen to it. It's something I have never been able to get over.
Who ever thought it was a good idea to include the audio concept of the band running through some game show dialogue should be spanked with a wooden plank. Very hard. The first time I listened to the record it was boring but with each listen since I can't bear to listen to the banality. Sometimes being innovators can really backfire. Eminem did this many years later and again I thought it just ruined what could have been a true masterpiece of an album.
Taking these skits out of the equation though and what you're left with is an album that not only could rival Paul's Boutique but may well have been album of the year. The sampling is just as heavy, but maybe even more inventive than the Beastie Boys offering. In fact a lawsuit that sprung from 60s rockers The Turtles against the De La Soul ushered in the licencing of samples law which prohibits groups from sampling unless the music is cleared first. The track in question is the short but perfectly formed Transmitting Live from Mars.  An instrumental moment on the album that is so relaxed it's almost sleeping.
The key to the sampling is its cleverness in its insertion into the tracks. The likes of Ghetto Thang using a second of Kraftwerk's Trans-Europe Express to propel the song along its course is really sneaky in its subtlety yet once you twig it's there it's the most obvious thing in the world. Even better still is the tiny sample of Otis Redding's whistle from (Sittin' On) The Dock Of The Bay which gives the verse to Eye Know the best kick back swing about it that you will ever be likely to find on a slab of vinyl. It's cut in such a way that a whole new melody emerges utterly separate from the source material. It has to be my favourite use of a sample ever.
The only time it doesn't work is when the group use the backbeat of Barry White's I'm Just Gonna Love You A Little Bit More Baby and then splicing it with sex noises over the top. It's more 2 Live Crew than the smooth Jabba love that Barry White should have provided. Anybody that knows anything about hip hop will tell you that 2 Live Crew suck harder than one of the crack whores they pay for their sexual gratification. Allegedly.
The hit singles and unusual hippy-trippy vibe laid the foundation for the album to be today regarded as a hip hop classic and if you are interested in further investigation of 3 Feet High And Rising I recommend the track by track dissection of the record found in Brian Coleman's Check The Technique book, it is a fascinating read. I understand this disc was a welcome relief from the more hardcore gangster rap that was emerging from the likes of NWA or the politically militant vitriol that sprung up from Public Enemy; it's just a terrible shame that they never re-released the record with all that chat show nonsense emitted from it. They could have been contenders.
19th February 2013
Sometimes I cannot believe my luck. I have just got news that next week I get to interview The Meat Puppets, not only that but over the past fortnight I've interviewed Michael Gira from Swans and Mark Arm from Mudhoney. If that wasn't enough I also interviewed two pop legends; Mike Score from A Flock Of Seagulls and keyboard legend Paul Hardcastle. Also I'm just about to book tickets to see OMD.
My 80s book is really going full swing what with all the above news and the fact I've almost finished writing about 1989. It's only taken me 13 months… At this rate I'll finish the thing in 2019.
12th February 2013
Anyone that loves The Melvins will love this. What an awesome film.
4th February 2013
So it turns out OMD are coming through town and it looks like they are returning to a more Dazzle Ships esque sound. Fuck Yes!
2nd February 2013
The brand new album by Babies Three is out. Its free to download from bandcamp (or pay what you like). It's amazing begining to end if I do say so myself. DOWNLOAD IT HERE.
28th January 2013
Black Flag were an incredible band, they never recorded an album as perfect as Rollins Band did with The End OF Silence but they got damn close when they put out Damaged in 1981. Henry Rollins is a hero of mine and his books (not just Get In The Van) are consistently great reads too. So when I found out with the rest of the internet that Black Flag were playing Hevy Fest this year I made sure that my ticket was booked and my tent was packed.
For me Black Flag is Greg Ginn though; not Rollins, not Kieth Morris, Dez Cadena or Ron Reyes. Ginn is the constant and I for one can not wait until he hits the stage with Chuck and Robo in August. To be honest if Rollins had been the singer it would have been a huge sell out, only Ian MacKaye has been more vocal against reforming his former band in recent years.
What I don't get is why all the bad blood on the World Wide Web. It could well fall flat on its arse and piss all over the wonderful Black Flag legacy but so fucking what? I've never seen 'em and I spent hours upon hours listening to them in my youth so I think I'll take the risk. If other people don't want to chance it then I can understand that too, what if Ginn's hands are so fat he can now only play power chords, what if Reyes vocals sounds like Tom Waits. Imagine the horror, you'd go home and smash up your priceless Jealous Again vinyl right?
Sometimes I just wanna have a good time and last years Hevy was a great time. Black Flag are one of my favourite bands of all time and I get to see them now where as this time last week I would never have even dreamed that. People just want to slag things off to get a like on their facebook status or some other crap these days. It's weak behaviour sweetie, weak.
24th January 2013
The Mars Volta have announced they have called it a day.
Cedric Bixler-Zavala wrote
"Thank u 2 all VOLTA fans u deserved more especially after the way u rooted for us on this album. I tried my hardest to keep it going but Bosnian Rainbows was what we all got instead. I can't sit here and pretend any more. I no longer am a member of Mars Volta. I honestly thank all of you for buying our records and coming to our shows. You guys were a blast to play in front of. We could never had done it with out you. My dream was to get us to the point were Jon Theodore and Ikey Owens came back but sadly it's over. Thank u a million times over for ever giving a fuck about our band. For the record I tried my hardest to get a full scale North American tour going for Noctourniquet but Omar did not want to. I guess a break from mars volta means starting another band and ignoring all the support the fans gave us. I tried my hardest guys. All I can do is move forward with my music and just be happy that mars volta ever happened at all. God Damn we had a blast. Thank u again. And no I'm not joking about any of this, I owe it 2 u guys to all fans to be serious about this. Thank u to all past members who helped Volta along as well. we blasted through like a comet and left our mark!"
It's sad because this last album of thiers was the best thing I think they had ever done. RIP
18th January 2013
New Chariot video came out. Makes me want to see them again. They were quite something at Hevy Fest last year. Whoopsie x
17th January 2013
So one of the best bands from the 1990′s got busted by the man. It was on some dodgy American TV show way back when and was only brought to my attention yesterday by a friend. So thanks Daniel and for the rest of you sit back for five minutes and enjoy THE HALO BENDERS vs THE MAN
15th January 2013
HMV is going under unless someone saves it, i havn't the money to throw away that is for sure. I have to admit that it's been an awful and soul crushing experience going into the place locally for years now. I love the big one on Oxford Street in London sure; they have tons of vinyl and lots of books and movies but I am always happier spending an extra quid or two for the same product as Sister Ray Records across the road or Rough Trade on the other side of town. There are many reasons this has happened, people are blaming the internet firstly but also there has been a lot of tweets complaining that the place now only stocks games and headphones and iPod docs. It's clear they have been struggling to stay afloat for years. The worst thing is that so may people are gonna loose their jobs. The 38% or whatever it is of physical music sales that the industry will lose will be recovered elsewhere I am sure, the jobs probably will not.
After years not visiting twitter I have a reignited my old account here… it's so much better than facebook, right?
I get to interview Swans in the next couple of weeks for pennyblackmusic magazine. I am so up for it you wouldn't believe, they will be featured quite heavily in my 1980's book that's for sure. This band were definitely an underground band back then and now they are back together and releasing music that is crazily complex and almost impossible to simply dip into randomly I think they will forever remain there. So many won't have heard of them but you really are missing a treat if you are into bands like sunno))).
Also I have been writing about Motorhead this week and done a few reviews as below. Have to admit that I fell in love all over again with the Orgasmatron record but am now glad that I can listen to something a bit less pummelling.
IRON FIST  – ACE OF SPADES – ROCK 'N' ROLL – NO SLEEP 'TIL HAMMERSMITH – ORGASMATRON
Yeah Yeah Yeahs have announced new album details, each time they release a new record critics rave about it being the best thing they have done but in reality they are a band of diminishing returns. Luckily for them they started so well they can afford to keep getting slightly drabber than the last time around. Maybe not this time though if their latest albums cover is anything to go by.
I mean, is this for real. I thought the last Kiss sleeve was a stinker but this thing is covered in faeces from top to bottom and side to side. OUCH!
Finally Black Sabbath confirmed that a new album with Ozzy on lead vocals is immanent. Rick Rubin is also producing which should be cool, not that his recent effort with ZZ Top was much cop. This will be great right? Ozzy hasn't released a decent record since No More Tears in my book and Black Sabbath haven't since Dio was their singer. That's a long gap… still it's a magic combo and one of the tracks is called God Is Dead so it can't be all that bad. Sad that cash and a lack of respect has caused original drummer Bill Ward to feel ostracised from the band and not be part of the line up for it. I like his tough as old boots face and cauliflower nose. He's a pretty good drummer as well and that helps.
09/01/2013
So the HUGE news this week is that David Bowie is back. A new single and video has been released and shot straight to the top of the iTunes chart and a new album is gonna be with us in March. I for one can't wait. The single Where Are We Now? Is a slow burner, reminding me of when REM released Drive before they put out the Automatic For The People long player. It's a warm and reflective treat which sees Bowie apparently reminiscing over his time spent in Berlin. How he kept this recording activity secret is beyond me. I loved this stealth approach. Only him and Jack White could really get away with it tho. Big names play big games I guess.
In other news because of my overspending at Christmas I missed the Raein / Crash Of Rhinos show in Brighton which is awful news. The upside is that screamo legends Raein have released new work for free or for a donation on this link HERE.
Turns out MIA, who released the universally panned at the time but ultimately incredible album Maya back in 2010 was due to follow it up late last year with a record called Matangi. Only problem was that the record label said it was too upbeat and asked her to record more depressing/dangerous tracks. If last year's single Bad Girls is anything to go by she should have done a Death Grips and told them where to go and release it herself, put a vagina on the cover and have done with it. BOTTLER!
Finally my review of Gorilla Biscuits' Start Today LP for my book of the 1980's was met with a mixed reaction. I understand how it got to its legendary status but unless you were there at the time. It's production and message seems somewhat outdated and underwhelming with the hindsight of time.